See published article in the Texas Knights News (VOL. 4, 2016-2017) below:
Irish missionary Fr. Patrick Devine witnesses African women and children suffering every day. As Founder of the Shalom Center for Dispute Resolution and Reconciliation, he sees the impact of violence and poverty on families in Nairobi, Kenya. Pregnant women are especially vulnerable and often feel abortion is their only choice. What could be done? How could he help save lives? It would take a miracle!
Fr. Devine found his answer after meeting Tim and Pat Von Dohlen, Co-Founders of the JPII Life Center in Austin, Texas. The JPII Life Center serves mothers in need through compassionate counseling, free pregnancy tests, ultrasounds, material assistance, and quality OB/GYN medical care through the Center's Vitae Clinic. Fr. Devine was inspired to act when he learned that 97% of women watching their baby on an ultrasound choose life.
What started as a chance to lecture on the University of Texas campus, ended with Tim and Pat giving Fr. Devine a tour of the JPII Life Center. After the tour, Father Devine said, "if there was a center like this in Nairobi there would be so many babies and expectant mother's lives saved." This idea incubated for some months as Father Devine took the information he gathered from the Center back to Africa and visited with his superiors who gave permission to move forward under the name "Mary and Joseph Life Center." Now came the hard part! How could he find the resources?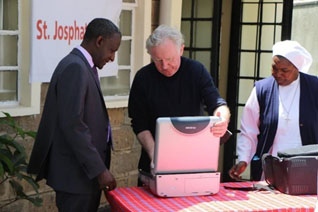 If you meet Fr. Patrick, you know he is a hard guy to turn away, two years later Father Patrick shared the progress being made for the center in Kenya with the Von Dohlen's and asked for help. That is when the process of getting the Knights of Columbus Council 10836, individual Legatus members, and the St. John Paul II Life Center leadership and benefactors together to make plans for the acquisition of a portable 3D/4D sonogram machine to go to the Mary and Joseph Life Center in Nairobi.
In December 2021, Fr. Devine traveled to Austin to culminate this unique joint pro-life initiative with the JPII Life Center. With the help of generous
benefactors, Fr. Devine was provided a portable sonogram machine to assist his ministry at the Mary and Joseph Life Center. The machine is being brought into the Nairobi slums to serve pregnant women where they are. By eliminating transportation barriers and allowing mothers to witness high-quality live images of their unborn babies, this life-saving technology will revolutionize family life in Nairobi. Through the Mary and Joseph Life Center, Fr. Devine also is educating families about fetal development and women's fertility to help them make informed and healthy decisions.
The JPII Life Center commemorated this achievement by hosting for Fr. Devine at a special gathering at the home of Tim and Pat Von Dohlen. Fr. Devine celebrated an intimate Mass and enjoyed a pleasant lunch with benefactors before receiving delivery of the sonogram machine which he then personally guided through Customs clearance to Nairobi.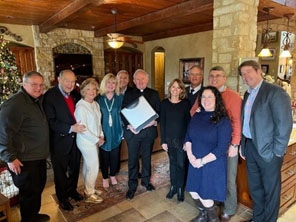 This partnership between the JPII Life Center and the Mary and Joseph Life Center bears witness to what we are called to as Christians: to love and care for women and families as Christ does. When we work together, we break barriers and show that our shared concern for humanity does not end in the womb – in fact, it extends across the world.
https://texasknight-news.net/articles/2022-4-how-one-priests-passion-to-save-african-babies-led-to-a-miracle